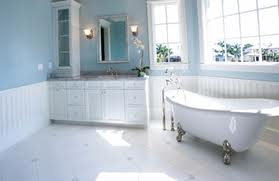 Is your bathtub, tile or shower enclosure in desperate need of a makeover? Thinking about a total remodel? Many clients think they need to remodel the entire bathroom to get that brand new finished look you see in many high end facilities and homes. Many bathrooms simply need a new finish, a brighter and cleaner look. You don't need to invest in a major remodel to give your bathroom a fresh, new look. With bathtub refinishing from ProTub Refinish, you can transform your tub and rejuvenate your drab and outdated bathroom.
Bathtub Refinishing: The Economical Choice
Updating your bathroom doesn't have to cost a fortune. For less money and less of a mess, you can breathe new life into an old bathroom by refinishing your bathtub. At ProTub Refinish, we make it quick and easy to get the bathroom you want And because you satisfaction is important to us, we go out of our way to deliver professional, courteous, honest and attentive bathtub refinishing services. We simply will not have it any other way.
If your bathroom's in need of a facelift, refinishing your tub is a fast and practical alternative to a complete remodel or bathtub replacement. Re-invent your bathroom with bathtub refinishing from ProTub Refinish. For more information or an estimate, call us today (562) 522-7168.