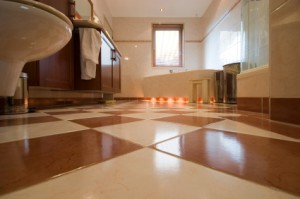 Are the tiles in your home or office chipped. cracked or faded? No matter the location, broken, chipped and faded tiles are a quick and easy way to lower the potential value of your home or office. ProTub Refinish are experts in tile resurfacing and tile refinishing and serve nearly the entire Southern California area!
Your Kitchen & Bathroom Tile: Refinish vs Replace
Completely replacing your bathroom or kitchen tiles are typically a last resort for most home owners as you are guaranteed days of inconvenience, ceramic dust over everything and uncleaned grout streaks that are so very hard to clean.  Why sign up for all this trouble when you can simply REFINISH it? Refinishing your homes bathroom fixtures, bathtub, kitchen counters, tile or shower enclosures instead of replacing them is a far quicker, less invasive, more economical way to breathe new life into your living spaces. Give us a call today for a free estimate!